Alright, yes, Chekov would probably not be the one to give the status report…
THAT DOESN'T COUNT!
Anyway! I'm listening to Cabin Pressure and updating you lot on the latest and bizarre-est in my life. So what have I been up to? Well, I officially have my US visa sorted and it should be arriving at my doorstep either today or tomorrow, my spiffy new cabin bags arrived yesterday and medical is in ten days. It's getting real! (finally!)
I gotta say though, with all the build-up and the pages upon pages of relevant instruction, the actual visa interview process was…boring. I'm not kidding. Disregarding the ungodly wake-up call I had to set in my alarm in order to be there on time (8 in the morning! That was my appointment time! Cruel and unjust, that's what this sort of thing is called.), the overall process mostly consisted of standing on a queue. One might argue it's a test of character I suppose. -shrug- It might have been easier if I had actually slept the night before. Unfortunately my insomnia appears to have returned (-insert with a vengeance joke here-). After a mostly sleepless night the two coffees I had time to drink did precious little to keep me alert. Well more alert than "watch out for cars, speak English".
Then there was the absolute hilarity of buying suitcases. The gods were merciful and my hold luggage was appropriately boring (read: black with no stickers) so I only needed a cabin bag and a topper. And let me tell you, cabin bags? Easy peasy to find. Toppers? Not quite as much. Here's the thing! None of the places that sell suitcases and bags (that I checked) actually call them toppers. I only had hearsay and a few scraps of common sense to guide me in my hunt.
I did have some help. A fellow starter sent me a pic of the topper she got, so off I was to Debenhams to get it too! I didn't. Why? Because the company making them, in their infinite wisdom, discontinued that particular line (in black only. They still make the design in other colours). Because truly, why continue making the colour most people are likely to buy. Folks, it's things like this that stopped me into getting into business. I just don't get it! Obviously I got a different one, black, just as boring, and looking like an oversized lunchbox.
I've also met quite a few people starting at the same training date as I. I'm only going to say that this sort of male-female ration I've only seen in my Austen and the Brontes module back in my undergrad. And that I will withhold further judgement until I've actually met everyone face to face. Until then, exchanging tips on Facebook it is.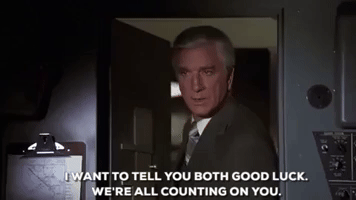 Speaking of…how is that movie (and Cabin Pressure for the matter) NOT required preparatory material. I mean yeah…parody and dabbling with the absurd aside… they are also a pretty good collection of everything that could possibly go wrong in a flight. Never mind the annoying passenger who won't put up their tray. What do you do when you run out of coffee mid-flight? I'm genially curious.
But that's all for now. And I need to go fix lunch soon-ish, so I'll sign out for now.
See y'all later!